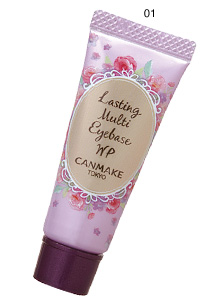 Canmake is coming to be my favourite Japanese beauty brand. Although the Lasting Multi Eyebase WP's name is a bit questionable side of the Engrish spectrum, the product is great! It's a white paste that turns clear when applied. First we'll get into what it claims to do.
It's waterproof(WP) formulation promises to prevent your eyeshadow, and eyeliner, and even eyebrow makeup from bleeding, fading, creasing, smudging, or running. It promises to boost the lasting power, and colour of your shadows and liners. Basically everything you could expect and eye primer to do, it does.
Lately I've been having some problems with eyeshadows creasing on me. This is not something I ever noticed until just before Christmas. This base solved all my eyeshadow problems. Seriously. I was not expecting much and am totally impressed. Also, it was only 500yen!
I'm going to put it to the test this weekend with a black MAC kohl eye pencil that smudges so much I stopped wearing it. Results to come! I haven't tried any of the cult eye primers like Urban Decay's Primer Potion or the NARS Smudge Proof Eyeshadow Base, but I'm not going to be in a rush to get either if this baby keeps performing so well.
I highly recommend this, and I will be most likely buying some of these to send home.
Have you tried this? How does it compare to some of the high end eye primers?